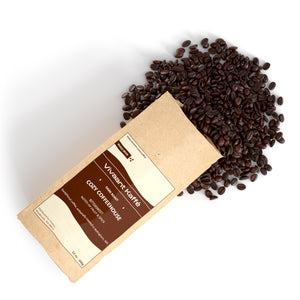 Why You Should Grind Your Own Coffee Beans
If you're one of those people that drinks more than an average amount of coffee, you've probably had the thought, "Maybe I should grind my own coffee beans." (Or maybe grinding your own beans is the next step on your path to becoming a coffee snob.)
Fresh-ground beans makes for better coffee.
Whatever the case may be, grinding your own beans will make your coffee better.
All it takes is a little effort, a willingness to experiment, and a good coffee bean grinder. (Check out our article from last month, Coffee Grinders 101 - The Basics for tips on what to look for in a coffee grinder. Also — and forgive us for being biased — we don't think anything can beat the Vivaan Manual Coffee Grinder.)
The problem with store-bought coffee grounds
So, if you want something better than store-bought coffee grounds but are still skeptical about why grinding beans does improve flavor, let me introduce you to the idea of staling.
Staling
Staling occurs when coffee grounds start producing a sweet but unpleasant flavor and aroma. This leads to the loss of the coffee grounds' volatile compounds and the onset of oxidation. In other words, as soon as your grounds make contact with the open air, your coffee is potentially losing flavor. (An in-depth study on this subject was reported in a December 7, 2006 issue of the Journal of Food Quality.)
Those of you with keen scientific minds might be able to anticipate that oxidation presents another hurdle on your way to achieving the perfect cup of coffee. (I lacked such a mind throughout my schooling, which is why I'm now sitting behind my computer merely reaffirming the successes of modern science.) "Wouldn't the size of the grind affect the rate of oxidation?" you wonder. (Truly, I salute you.) Yes, the size of the grind does affect the rate of oxidation.
You don't control the size of the grind
So what does all this really mean? It means that if up to this point you have purchased pre-ground coffee, you have surrendered all control over the taste of your coffee to the manufacturer, save for how quickly you used the grounds once you opened the bag. Additionally, if you're the kind of person who likes an espresso in the morning and a pour-over after a couple hours of work, you likely already know that different grind sizes affect the taste of your coffee.
Simply put, if you want to be able to make your perfect cup of coffee each morning, I'd encourage you to buy some beans and a quality coffee bean grinder and start experimenting. Take notes as you grind the beans each morning and discover a methodology that is uniquely you.
Another Consideration: The Bean Roasting Process
Before I bring this article to a close, I want to briefly touch on another dimension of what contributes to the variety of different coffee flavors: the bean roasting process. This topic will be covered in another blog post at length, but, in essence, roasting enables the positive counterpart of staling: degassing. When a coffee bean is roasted, carbon dioxide is released, which enhances the flavor of the bean and forms a barrier against oxidation. If you start grinding beans and discover that you do enjoy managing the flavor, I'd encourage you to experiment with roasting as well!
Are you ready to start grinding your own coffee beans?
If you've made it this far, I can only hope that you've been convinced. Grinding your own beans really does make your coffee taste better! And if you must know, yes, I only started grinding my own beans because I wanted to impress a cute barista at my local coffee shop. (The barista is now long gone but I still grind my own beans!)
What do you do to make your coffee taste better? Let us know in the comments below.
---