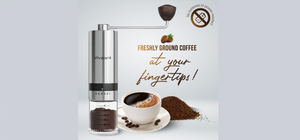 Manual Grinder
Food Chopper
Rotary Grater
Coffee Subscriptions (Coming Soon!)
Join our VIP Club!
Enter your email to get promotional offers and product news!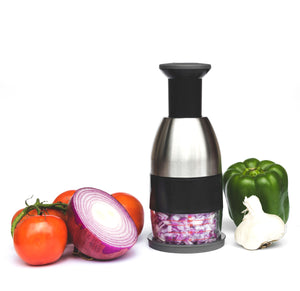 Vivaant Food Chopper (Stainless Steel)
Manual Slicer Dicer Mincer - Time Saver For Vegetables Salads Onions Garlic Nuts And More - Commercial Quality With Easy-Clean Design.
Buy HERE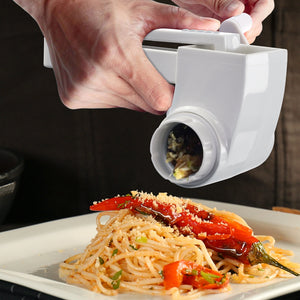 Vivaant Professional-Grade Rotary Grater
2 Stainless Steel drums -Grate or shred hard cheeses, vegetables, chocolate, and more. Award-winning design and heavy duty build quality lasts a lifetime.
Buy HERE
Testimonials
 The Seller Customer Support is outstanding!

This grater system is made of commercial grade plastic (except for the two metal grater roller drums - very strong, very sharp). The whole system is easy and does a great job. It also includes two containers that attach to the grater drums to capture all of the grated goodies - and the containers have lids with moveable openings for shaking the gratings onto your food destinations.
This is the perfect grater for hard cheese.

This is the perfect grater for hard cheese. On my first attempt, I would have given it a 4 rating when tested on a piece of Parmesan found in the fridge. After leaving the cheese to room temperature, it excelled. It is a solid 5. I used the larger spool and have not tried the smaller one yet. A quick clean up with hot running water was all that was necessary. Came boxed with a nice little customer review card from the shipper. I will look for their products again.
 Made for Left handed people too!

The produce is great! I am left handed, this product is for me as it is versatile to be set up for a righty or lefty. The design is perfect, other graters I have used have left much of the product I was grating in the grater. It is easy to clean and stores easily too. The two containers that come with this grater stores the grated material well and is functionally perfect for my use. I have grated hard cheeses and different types of chocolates and nuts . All with great results for my baking. It is very sturdy and makes clean up a cinch.
 Versatile professional-grade grater

Excellent quality and versatility make this a terrific grater. The handle can be attached to either side, accommodating both left-handed and right-handed users. It comes with 2 blades for different types of food or desired size of grated material, and the 2 canisters which easily attach will prevent loss of grated material and serve as small storage containers.
 What an incredible product, quality material, solid mechanics

I can not say enough good things about this product. It is the perfect size and heft, giving the Grater a real professional look and feel. The first time I used it I knew we had a winner. The cheese came out perfect looking just as it does in all the restaurants we dine in where a Cheese Grater is used. Having the two cheese containers allows you to Grate a little more to use later, an excellent extra. Clean up was simple without having to use brushes to get all the cheese out. We bought this for cheese but can't wait to use it for other food products, chocolate, nuts, etc. Thanks again for a wonderful, quality product.